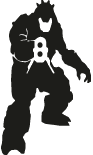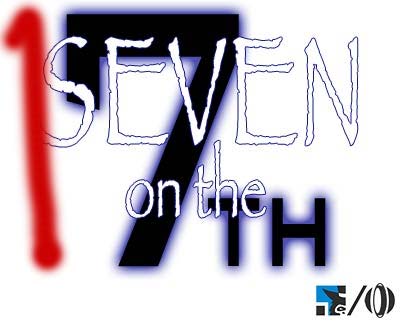 The Setup
Pattern? What Pattern?
If you're interested in the first 7 on the 7th contest, visit this page.
If you're interested in the second 7 on the 7th contest, visit this page.
If you're interested in the third 7 on the 7th contest, visit this page.
Fourth one is here.
The Contest
So last week, Bungie sent us a few DLC codes, and said "do what you will with them." We got yet ANOTHER code from the wonderful folks at Gamerscore Blog, because they are cool dudes. After finding out that you can't, in fact, trade DLC codes for crack, we decided we'd give them away to our constituents; after all, who better to make use of Bungie's largesse than Bungie's fans? The problem was, it's holiday season - there simply isn't time (or energy) to set up some fancy contest. But wait - we have a semi-regular contest series that gives away stuff from Bungie to you guys. It even has a name! It's Seven on the 7th! Which means we just have to wait until the... dammit.

Hence, Seven on the Seventeenth. That's right - we've got 7 codes good for downloading the Heroic Map Pack from Xbox Live Marketplace... and we want to give them to 7 of you. All we need in return is a cool screenshot.
The Rules
Rules are simple, and pretty common-sense:
You can only enter once - once per gamertag, once per email address, once per person.
All entries must be uploaded to Bungie.net, either in your File Share or your High-res Screenshots sections. Then you mail us the URL to the screenshot. (If you email something other than a bungie.net URL, we will toss it. If you upload your pic somewhere else, we will toss it. If you stick them in an envelope and send them in via US mail, we will toss it - but we will first ridicule you on our front page.)
All entries must be in by 9PM, PST, on Thursday, December 20, 2007. (That's 3 days, plus a few hours.)
Judging will be done by HBO staff, and winners will be announced on December 22nd (or soon after if something blows up). That means you get a Christmas present from HBO, 3 days early. (Or a Hannukah one, 10 days late.)
Judging will be based on the coolness of the picture. We can't define 'coolness' for you - but we'll know it when we see it. You can send an artistic pic, or a totally rad kill, or an amazing ricochet, or whatever. It's up to you. Just like it's up to us whether you win or not.
The top 7 entries will win a 25-digit code which, when entered into the 'redeem code' box on your Marketplace pane, will allow you to download the Heroic maps. Please - if you already HAVE the Heroic maps, pass on this contest. Leave the prize for someone who NEEDS it. (In the past, we had someone enter a contest to win a relatively expensive music player that he KNEW he couldn't use - because he just wanted to see if he could win. Be nice to your fellow fan; if you can't use this code... don't enter. Thanks.)
You must own an Xbox 360 with a hard drive, and have an Xbox Live Gold membership, and Halo 3. The prizes here are downloadable maps for Halo 3, and you need the Live membership to upload pics. Yeah, I know that sucks for people who'd love to get the maps for offline play - but them's the breaks.
Per this news post, winners have one week to respond to contest correspondence; after that, the prize will be awarded to someone else. (If we can't find another suitable entry, we'll simply not award the prize.)
Prizes will be awarded directly by us, via email, in the form of redemption codes for Xbox Live. No actual software is changing hands. These codes cannot be resold.
Prizes are courtesy of Freeverse, Inc. Because they rock. Hassles involved with the contest are the responsibility of bungie.org. Because we love to deal with your problems.
The Finer Print
This next block was written for the first contest - and amazingly, there were STILL people who did what it says not to do. So I'm leaving the relevant paragraph.
This is the part I hate to write, because it makes me feel bad to think folks are too lazy to actually READ the rules to a contest they're entering... but I'm writing it because folks ARE too lazy, for the most part.

If you send your entry to a different email address (like lwu@bungie.org, or halo@bungie.org, or any OTHER address at bungie.org (well, other than contests@bungie.org), or any address at Bungie), or you post your entry on our forum and expect that to suffice as an entry... you ain't gonna win.
The Finest Print
This contest (and all subsequent similar contests) is run by bungie.org. Prizes are normally supplied by Bungie Studios - we are NOT Bungie Studios, we just have a key to their schwag closet. Don't bug them if you've got a problem - bug US.