BUNGIE WEEKLY UPDATE
This week was awesome. I don't know why, but I had a fun week. Today, to celebrate, I am taking off to Tahoe to badly injure myself on a snowboard.
This week we played our Humpday Challenge against the gentlemen of the Tampa Bay Buccaneers. A fine group of Halo players and a group of gents to boot. We made fun of them as is our tradition) but we had a blast with those guys. Even Joe Tung, our surliest player enjoyed himself.
We got a lot of inquiries about www.ilovebees2.com and I would like to say for the record that it's a fake. Or at least that it has nothing to do with us. I mean for one thing, you have to figure that if we were doing a secret vial campaign, we wouldn't call it ilovebees, because you know, that wouldn't be terribly secret.
We also got a lot of mail about various Halo related stuff - like a homebrew PSP game and the Halo horizontal scroller called Halo Zero. Now, not to be jerks, but that type of thing is unusually problematic for Microsoft, since the company has to protect its trademarks "vigorously" so while lots of this stuff looks cool, and is testament to the hard work of fans, it's not up to us to just let it go, so be warned, if you are working on some time-sucking difficult Halo project that it may cross some line and activate our legal squad. For the most part, fan art, fan fiction, all that kind of stuff is fine, but actually making a Halo game or producing Halo content for commercial use is generally not cool.
Anyway, that's enough downer. More rumorbusting! A long-legged, long-lived rumor is that we're hard at work on an Xbox Live title. We're so not. Lord knows we play too much Live Arcade, but our entire team (with the exception of a couple of Vista guys) is cranking away on our next project. That doesn't mean we'll never do a Live Arcade title, or that somebody else might not convert one of our old titles (Myth and Oni belong to Take 2) but we personally are not making a Live arcade title at this time.
Although I'd like to. Here's my napkin design. Warthog Moon Patrol. Isometric 3D with the Moon Patrol mechanic - jump craters, lava rivers and chasms, shoot stuff above and in front of you, try to avoid quicksand and dustbowls. Co-op mode lets the gunner fire in any direction instead of just straight up and straight ahead. Multiplayer includes races where you try to force opponents into a ditch or rock face. The Hog would handle like a hog. It would be sweet. ADMIT IT.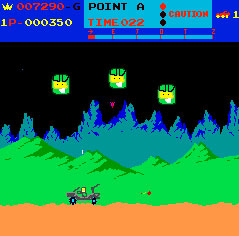 We had a Bungie get together last Saturday at new-ish UI guy, Colm's house.He had a sweet setup with everything in place except 360s when he arrived. We spent all night playing COD2, Perfect Dark Zero (Infection mode ROCKS) and a quick burst of Quake IV. No Halo 2, since we were saving ourselves up for our Humpday challenge. I did get to play something else this week, during one of our own internal playtests for the next project. Can't tell you what it is, but I would like to mention to Lars, one of our new designers, that it rocked.
Special Sketch Bonus Content
As Frankie is on his way to enjoy a fun filled weekend of snowboarding, hot tubbing and all around cold-weather merriment, I'm here at the office making sure the show goes on, posting this update on his behalf. While I'm at it, I figured I'd add a little extra spice since we can all tell that Frankie has other priorities today. *ahem*
Hopefully everyone enjoyed our recent video tour of the Studio, we had a lot of fun making it. Though, admittedly, it was rough around the edges, some of you had some really vicious commentary (really, if you think Frank is "fat", you must subscribe to the Lohan School of Warped Weight Perception). We're going to be doing more fun stuff like that in the future. We figure if the rest of the world can manage to offer things such as podcasts and rich content, we should be able to pull it off ourselves. Sadly we haven't had much luck securing our on-demand HD Mister Chief channel but we're not giving up. We do, however, have awesome footage of Noguchi dressed up in vintage dirt-rock attire wailing on Guitar Heros.
Speaking of Noguchi, I thought we could use some extra flavor in this update so I asked him to share some deep thoughts with our readers. Here's what he had to say:
"Yes. I would like a pony as well, ignoring upkeep and food and transportation and the fact that I hate ponies."
Thanks for that Mat.
In other news, I was recently pointed to a certain hip-hop flavored music video based on Halo that I found highly entertaining. Unfortunately, the content is pretty explicit so it's not really the type of thing I can formally promote or link to on our site, but it's pretty funny and I wanted to give a shout out to the guys who put that together. (you shouldn't have too much trouble finding this on the web if you're interested)
There's another little project that's been brewing here for quite a while now that's really getting me excited. I think Frank may have hinted at it before and I can tell you it's NOT a game. But really that's all I can tell you. For now. I suspect there will be an official announcement coming from our partner within the next month or two. Stay tuned.
Also, the next Halo novel is still moving forward and we have a final title. I can't share it quite yet, but I can tell you it's NOT called "Backdoor to Infinity." And the Halo 2 soundtrack volume 2 is still coming... Shishka has finished all the final artwork for Marty so it should be available soon. If you're a Halo merchandise collector, you might also be interested in knowing that the next series of action figures from JoyRide is scheduled to ship this month. This latest series includes a very cool Prophet of Truth figure and a Heretic Elite in addition to a Heretic Banshee and another Spartan.
In community news, we just wrapped up another contest with our friends at Halo.Bungie.Org. The latest installment of the "7 on the 7th" (referring to 7 prizes given away on the 7th of every month) focused on jokes. To enter, all you had to do was write a joke that was somehow based on Halo - and it needed to be fairly clean (no Dice Clay material, thank you). After many laughs (and groans), the winners have been announced. Thanks to everyone who entered and congratulations to the winners, who will each receive a special mystery prize pack. The winners are: Vid Boi, HavokBlue, Mankitten, Kelly Main, Ename Nep, Sporkfoot, Adam Chapman and Stuntmutt. You can read the winning jokes over at HBO. We'll be kicking off another contest real soon, stay tuned to HBO and Bnet for info!
That's all for this week. Should we place any wagers on whether or not Frankie makes it back from his boarding adventure without injury?
*special thanks to Shishka for today's inspiring top story graphic. I take no responsibility for this.