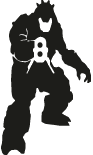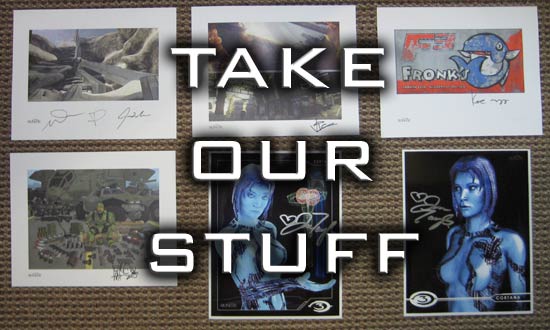 26 September 2008: Results are up now!
The Setup
We picked up a lot of stuff at PAX 2008 - mostly signed prints, but some other stuff, too (t-shirts, action figures, mugs... whatever). Then Bungie contacted us and said "we have even more stuff - can you help us get rid of it?" (They weren't too fond of our first suggestion, involving gasoline, the trunk of Luke's car, and a puppy.) Now, life is rather hectic right now, and a pretty hard deadline is coming up... so we wanted to make this as easy as possible for everyone involved. We hope you agree that we did.
The Contest
You can win this one by sending in almost anything that fits on one line of an email. That can include a link to a screenshot, it can include a suggestion for a new achievement, it can include a suggestion for an HBO Title Line, it can include a link to a Halo 3 panorama, it can include a link to fan art, it can include a short joke. It can NOT include a link to a large story, or to any video, or to some music - the key here is that it's easy for the judges to process quickly. (I'm sure that there are those among you who can find ways that technically follow these rules, but clearly violate their spirit; you don't want to do this, because we'll simply throw away your entry.) Send us something that we can process, visually or mentally, within a couple of seconds, and you're in the running for some goodies. If you're sending us anything other than straight text in the email, we will toss it; do NOT attach images or other sorts of files to your email.
The Rules
Rules are simple, and pretty common-sense:
Prizes are courtesy of Bungie Studios. Because they rock. (Some of it we collected, some they're providing after the fact.) Hassles involved with the contest are the responsibility of bungie.org. Because we love to deal with your problems.
Clarification, added 18 September: Wasting our time will get you banned from this contest. Send us a joke picture, or a non-Halo-related email... and every entry you submit will be trashed, whether or not it is valid. If you're not sure whether a particular entry will be viewed as 'not legitimate'... don't send it. Period.
Important disclaimer: While Bungie is totally good for the prizes - sometimes it takes them a little while to mail stuff out. Please be patient. I could put a silly standard "Please Allow 6-8 Weeks For Delivery" note here - but it shouldn't take THAT long. The point is, though, that it might take more than a week; don't worry, we didn't forget you (and neither did Bungie).
The Finer Print
This next block was written for one of our first contests - and amazingly, with every subsequent contest, there were STILL people who did what it says not to do. So I'm leaving the relevant paragraph.
This is the part I hate to write, because it makes me feel bad to think folks are too lazy to actually READ the rules to a contest they're entering... but I'm writing it because folks ARE too lazy, for the most part.

If you send your entry to a different email address (like lwu@bungie.org, or halo@bungie.org, or any OTHER address at bungie.org, or any address at Bungie), or you post your entry on our forum and expect that to suffice as an entry... you ain't gonna win.
The Finest Print
This contest (and all subsequent similar contests) is run by bungie.org. Prizes are supplied by Bungie Studios - we are NOT Bungie Studios, we just have a key to their schwag closet. Don't bug them if you've got a problem - bug US.