Main Strips | Sunday Strips | Guest Strips | FAQ
One One Se7en - A Stuntmutt Comic

< &nbsp

1
2
3
4
5
6
7
8
9
10
11
12
13
14
15
16
17
18
19
20
21
22
23
24
25
26
27
28
29
30

| | |
| --- | --- |
| | Main |
| | Sunday |
| | Guest |
| | Holiday |
| | No Strip |
| | Today |
On April 30, 2003, Stuntmutt began turning in episodes of a new comic known as One One Se7en. We'll present them here, in the order in which they were submitted, as they come in. New submissions were added Monday, Wednesday, and Friday. On March 3, 2008, One One Se7en was retired from regular releases - Stunt's life got a tad too busy for 3 strips per week. (He still comes by with new content when the situation arises, however.)

On June 22, 2003, Stuntmutt began offering randomly spaced Sunday strips, as well... and on August 14, 2003, the first Guest strip was posted.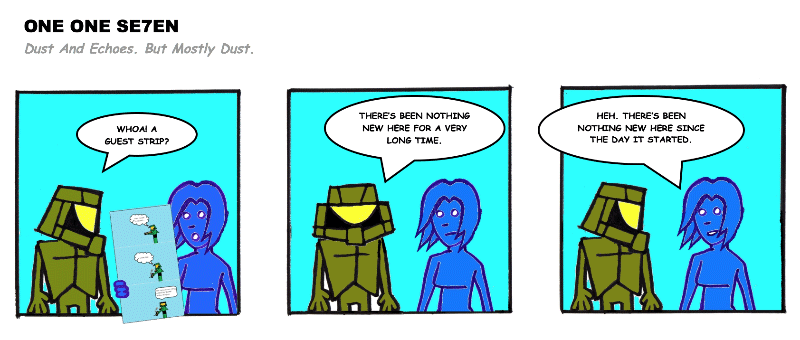 In May, 2018, Stuntmutt received a guest strip from a fan. Here's what he had to say about that.
"CHRISTY, how much time has passed?
I suddenly realised I had no idea where all my old files were.
I discovered them on a set of old CD-Rs from 2005.
Then I had to rummage around the back of cupboard to find an external drive to play them on.
I was literally blowing the dust off the material.
And as the strip points out, nothing new there..."
We are tickled to be able to present this strip on the 19th anniversary of the founding of HBO. Thanks, Stuntmutt and Max!
Added May 26, 2018