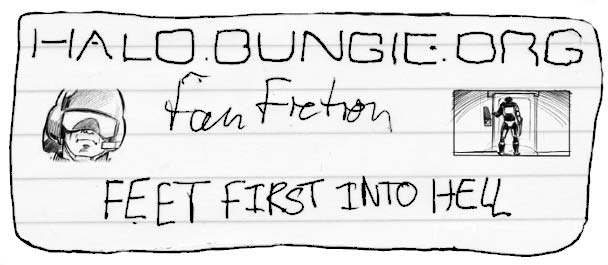 ---
HBOFF: Feet First Into Hell
We of hboff.bungie.org are proud to announce the winners of the Feet First Into Hell ODST writing contest. It's been a long time in the running, and an even longer time in planning, but HBOFF and HBO finally pulled through. Since we launched the contest on Bungie Day, we've received almost sixty stories in honor of the release of Halo 3: ODST, ranging from 750 word shorts to 20,000 word novellas. I'm absolutely stunned by the amount of quality talent that's rolled in, and making the final choices has not been easy. In the end, I'm proud to be part of such a creative community.
To all those who entered, and didn't make the final cut -- we encourage you to submit your stories through the HBO Fan Fiction submission form, and look for fresh stories linked from the front page every Friday. Come to the forums, check out the comments on your pieces and meet the cheerful denizens of HBOFF!
First, a word of thanks to the judges:
kabu, yours truly, a dark and/or silly comedy writer.
kr-1426, UNSC wartime journalist.
(ENS) Rabid_Gallagher, a veteran of HBOFF and fan of Colonel Ackerson.
The 14th Wonder, bearer of Brutish beatdowns and Grunty goodness.
CaptainRaspberry, my evil twin in writing.
After much wrangling, we've divided the five winners into the Grand Award, two First Runners-Up and two Second-Runners up. The Grand Winner gets a Limited Edition copy of Halo 3: ODST and the First Runners-Up get regular copies, all with the pre-order bonus. Seeing as these are the five best out of nearly sixty, I'd say that all of them are equally worth a read.
And now, the moment you've all been waiting for...
The Grand Prize goes to:
The King's Robes by SeverianofUrth
The King's Robes is an artfully twisted story about a man who wants to be an ODST, but seizes the wrong opportunity. SeverianofUrth manages to pack a magnificent punch into a short story, delving deep into the psyche of his protagonist. SeverianofUrth is a long-time regular at HBOFF, known for his dark, disturbing prose. Congratulations, you win a Limited Edition copy of Halo 3: ODST!
Here he is in his own words:
"Just a college student working for my degree. Writing is a hobby I took up way back in high school, and I've been in various original/fan-fiction communities since then, churning out stories for my own amusement. I joined HBOFF a couple years back because I loved Halo and the thought of writing fan-fiction about it interested me, and I have to say, I've yet to regret that decision. While the community isn't as large or vocal as it used to be, it still remains one of the best online groups for getting actual feedback. Plus, the people are good people."
The First Runners-Up are:
Pyres in the Sky by J. D. Ford
Mad World by Sin Saiori
Pyres in the Sky details the formation of the ODST project by a young Major James Ackerson. The story is told from the point of view of one of the very first soldiers to drop from orbit, on a mission that is more complicated than it seemed. This long, long story (possibly a novella) is filled with deep characters and excellent action. J. D. Ford is a distinguished contributor to HBOFF, focused on writing lengthy, rich stories.
J.D. Ford in his own words:
"I'm an aspiring author of speculative fiction with too much time on his hands. Inspiration stemmed from several sources, including Dirty Dozen, Silence of the Lambs, the works of John Ringo, and my cat. To date, all of my Halo fanfics have opened with a quote from war poetry. Coincidentally, all of it from World War I."
Mad World is a frenetic, sharp-witted short about an ODST's battle or dream or both. Fast-paced and written with a wonderfully gripping style, it is an amazing read and a terrific piece of writing. Sin Saiori is new to the HBOFF stage, and his debut could not have been better.
Sin Saiori in his own words:
"I had re-watched Donnie Darko recently and I had been listening to Mad World (Gary Jules, not that American Idol crap), and something about that just seemed to sound right with the ODST theme. Then when actually writing it, I tried to tie in references that might fit, like UNSC Persephone, and the thoughts of soldiers being sent to do something that makes no sense but still doing it to the best of their abilities. Finally, the ending was a bitch to write: I went through four different versions of the ending, then picked one and rewrote it twice."
Congratulations, you both win copies of Halo 3: ODST!
The Second Runners-Up are:
Grey, by Arthur Wellesley
Disorder, by SargeantSarcasm
Grey is a heartbreaking story about a group of ODST's and survivors stranded outside the ruins of Cleveland during the Battle of Earth. They try to survive in the face of dwindling supplies, low morale and tension amongst the civilians and soldiers. Filled with painfully real characters and gripping description, Arthur Wellesley, one of the most distinguished writers in HBOFF, has crafted an excellent story. Unfortunately, Grey could have withstood another proofread or two -- a number of editing mistakes push this otherwise amazing piece into the second runner-up category.
Arthur Wellesley in his own words:
"My name is Arthur. I am a Canadian, born and raised, and am currently attending university there. This story was meant to convey the utter helplessness of men abandoned in an inhospitable land. All the men are slowly dehumanized by their deprevations, eventually becoming more animalistic in their demeanor and actions. Deprived of light, food, and communication, the soldiers' world becomes ever smaller and ever more desperate. In the end, all that matters to humanity's finest is this one little cistern in this one little basement. "
Disorder is a short story in the mind of an ODST who has fallen into unfriendly hands. He must try to make sense of his reality while trying to clear his own head. SargeantSarcasm, another newcomer to the HBOFF stage, has crafted a dark, surreal tale. Disorder twists the nature of reality and imagination, and leaves you thinking after you've finished.
SargeantSarcasm in his own words:
"I've been a member of the Halo Community for a while, finding a niche at ForgeHub and have stayed there since, eventually becoming a moderator. However, I never really found a place for any storytelling until I saw the bungie blog post about the fanfic contest. I tried to take a psychological route in what I perceived would be stereotypical writing and came up with a few ideas, none of which piqued my fancy enough. Then two nights before the contest deadline I developed an idea and went with it, confusing my proofreaders. I rather like the way it turned out, as weird and Twilight Zone-esque as it is. I'd also like to credit TexturedSun, since, in hindsight, the story probably grew from an unfinished idea of his that he showed me many ages ago. Thanks."
---
So there you have it, folks. The Feet First Into Hell contest is good and done, and three of our winners get to go home with some nice swag. There are so many great pieces that didn't make the top five. Their authors should definitely upload them to the Fan Fiction section.
Once again, thanks to all my fellow judges, to all who submitted their stories, to my comrades at HBOFF, and to Louis Wu for giving us the always wonderful halo.bungie.org.
---