Creating the tutorial.map cache file using Tool:

In Windows, open a Command Prompt. The Command Prompt can be found by going to Start -> Accessories -> Programs -> Command Prompt

In the Command Prompt go to the main Halo directory. In the root directory is where all the Halo tools exist, there should be a program file called tool.exe.

Typing just tool.exe at the Command Prompt and hitting Enter will show all the available command line parameters as well as the usage and syntax options.

The command line that will be used in the following example is "build-cache-file" and it has the following syntax:

build-cache-file <scenario-name>

The syntax parts are described below:

scenario-name - The scenario name includes the name of the directory where the level directory structure is located, as well as the name of the .scenario tag file. The directory structure that was set up for Halo editing is very specific. The full directory structure name is not needed because of this. The file extension name is also NOT necessary.

1) At the Command Prompt type the following and hit Enter:

tool.exe build-cache-file levels\test\tutorial\tutorial

There should be quite a bit of output indicating the processes being performed during the creation of the .map cache file.

The output will also indicated any errors that occur. These errors typically take the form of missing data tag files. Depending on the severity of the error, the .map cache file may not get created.

The tutorial.map cache file should have been successfully created.

The first image further explains the above procedures and shows the output of Tool.exe in the command window.

The tutorial.map cache file should now appear in the Halo\maps directory. All cache files for the game are located in this directory.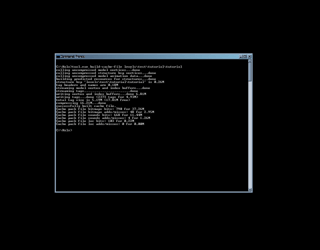 Click to Open Larger Image in New Window